To celebrate 70 years of innovation, inspiration and learning, GANT is championing seven iconic products that have stood the test of time. The Mell Square store will be participating in GANT's anniversary year, celebrating its heritage by honouring a different icon each month – paying tribute to its curious culture, defined by GANT's Never Stop Learning credo. Read on to learn about GANT's most iconic pieces…
To celebrate, GANT is offering double points on every icon product, exclusively for members of their loyalty programme. The offer will be available between the 7th and 14th of each month until October.
Month: February – Decade: 1950s, Icon: The Button-Down Shirt
The shirt that started it all.
The GANT story begins in 1949 with a dream of creating the perfect shirt – seven decade later the 'Button-Down' shirt remains a preppy icon.
Month: March – Decade: 1960s, Icon: The Club Blazer
The timeless style of the 'Club Blazer', originally worn by sailors and students, it brings to mind afternoons at the yacht club, but today it can take you anywhere.
Month: April – Decade: 1970s, Icon: The Chino
A quintessential piece of modern American sportswear, key to the GANT brand, the 'Chino' is practical, comfortable and democratic in style – everyone looks good in chinos.
Month: May – Decade: 1980s, Icon: The Piqué
Game, Set, Match – what started out as a tennis shirt has become an icon both on and off the court, with it's modern take on retro.
Month: August – Decade: 1990s, Icon: The Heavy Rugger
With roots in the game of rugby, the 'Heavy Rugger' plays a leading role in modern American sportswear, perfect for a smart casual weekend.
Month: September – Decade: 2000s, Icon: The Varsity Jacket
Inspired by all-American college sports, the 'Varsity Jacket' is a sporting hero to be cheers on for decades to come.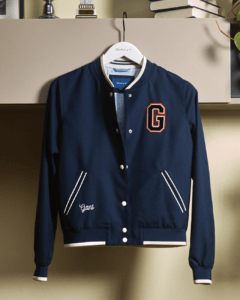 Month: October – Decade: 2010s, Icon: The Cable Knit
Traced back to the wardrobes of Irish fisherman, the Cable Knit has far passed its origins becoming synonymous of preppy style.
10
Make sure you pick-up a piece of fashion history at GANT in Drury Arcade! Want to know more about MyGANT membership? Click here.
Keep up to date with the latest news and offers from Mell Square by searching 'Mell Square' on Facebook, Instagram and Twitter.