With the sun finally starting to appear there's never been a better time to update your Spring wardrobe. We've pulled together a guide on some of this season's key trends, including our favourite finds from around the Square.
Statement Prints
Say hello to your SS19 wardrobe staple. Statement prints are the easiest way to combine trends, especially when using bold colours. Find these exciting eye-catching prints on dresses, shirts, skirts and jackets – this trend has something for everyone's style.
Mell's Must Have: Bridge, Milano Italy Brush Stroke Dress
The Graphic Tee
A versatile garment, the print tee works for everyone. Whether you prefer a simple, understated print or a bold, colourful logo, they can be worn as part of a day-to-day wardrobe or dressed up to create a going out ensemble.
Mell's Must Haves:
Marks and Spencer, Per Una Embroidered Round Neck Short Sleeve T-Shirt, £19.50
Fat Face, Fresh Face Saving Our Seas Organic Cotton T-Shirt, £25
The Vines, Thrasher tee, from £29.95
Pastels
With pastels having appeared on the SS19 runways, we think it's fair to say that they will always prove to be a go-to colour palette for Spring. Adding a refreshing feel to wardrobes, sherbet-hued colours bring a delicate edge to outfits.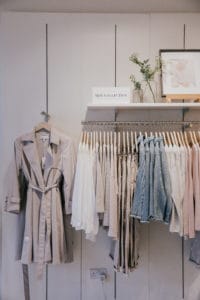 Mell's Must Have: The White Company, Cotton Ribbed Swing Jumper, £89
Stripes
Transitioning from season to season, we're starting to wonder whether stripes ever really 'go-out' of fashion…Whether you're after a head-to-toe statement piece or a simple nod to one of this season's boldest trends, there's plenty to be discovered at Mell Square.
Mell's Must Have: GANT, Tech Prep Piqué Rugger, £95
Sunglasses
Whilst not a trend in itself, a good pair of sunglasses is the perfect way to complete your wardrobe this season. For those looking to stay 'on trend', mirrored sunglasses are making a comeback, so keep your eye out for a striking pair.
Mell's Must Have: Perspective Opticians, Maui Jim Collection
What are you waiting for? Head to the Square to find your new season style…
Keep up-to-date with the latest news and offers by searching 'Mell Square' on Facebook, Instagram and Twitter.