Party season is finally here, and Hotter want to get you ready to celebrate. Visit the store in Mell Square, where you'll find everything from heels to smart casuals, even bags to match to make sure you look great during the festive season.
Joanna £6
Introducing our new, chic evening shoe Joanna that features a comfortable almond toe and elevated heel height. The flattering, leg-lengthening silhouette can easily be slipped on and the Soft Touch Leather insole and lining is designed to caress your feet, to offer an extra level of cushioned support. Update your Winter party wardrobe with a choice of stylish prints and colour options.
Gem £45
Deceptively spacious and boasting a new adjustable leather crossbody strap, our pretty camera bag returns with one zip fastening internal pocket and a secure hidden purse. Whether you opt for stylish studs or vibrant Leopard print, each of Gem's pretty patterned options work wonderfully with a range of shoes and heels from the new collection.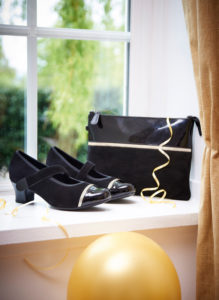 Charmaine £79
Charmaine boasts a seasonal style refresh with its pretty almond toe that's shaped for graceful comfort. A striking mix of Patent Leather, metallic Gold banding and Soft Suede work wonderfully with any formal outfit and the whole shoe is designed to be paired with our statement Cora clutch bag. Benefit from an innovative elasticated band around the topline of the shoe for round-the-clock flexibility that looks effortlessly on-trend.
Cora £49
Boasting a beautiful style refresh and crafted from premium panels of leather, suede and patent leather, Cora is a sleek evening option that looks wonderful when worn with our statement Charmaine heels. Carry yours as a clutch or attach either the carry handle or shoulder strap and enjoy total security from the zip top closure with internal zip pocket and handy phone pouch.
Jada £72
Jada is our new Patent Leather statement Mary-Jane heel that's made to get you noticed. Sink your feet into the Soft Touch Leather insole and lining and enjoy an unparalleled feeling of support and all-around comfort. Hidden stretch elastic to the buckle is designed to flex and move throughout your day while the soft almond toe is a feminine and flattering choice, perfect for the party season and beyond.
Donna £85
There are three pretty upper options of Donna for you to fall in love with this season. Whether you opt for Hotter Softy Leather, Soft Suede or Patent Leather you will benefit from a spacious fit and stable block heel that gives Donna its best-selling comfort credentials. Stylish brogue details and a clever deep V-cut ooze all-day (or night) wearability and underfoot joy.
Imogen £39
A statement handbag that's made for getting noticed, Imogen has a detachable chain strap, it can be held through the soft twist for a vintage-inspired carry handle or worn, hands free, as a pretty clutch. The perfect companion when paired with Donna, Juliet or Viviene, keep your party essentials secure with the easy press stud closure and convenient internal zip pocket.