Visitors to Solihull town centre have been welcomed with free hand sanitisers and face masks thanks to a joined-up project launched by Solihull BID and Solihull Council funded through the European Regional Development Fund's (ERDF) Reopening High Streets Safely Fund.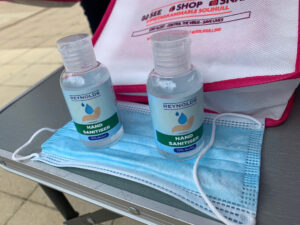 Business Hosts from the BID – the Business Improvement District for Solihull town centre – were on the High Street on Saturday, providing shoppers and employees with complimentary reusable bags filled with face coverings and sanitisers.
Following the announcement that face coverings were to be made mandatory in many customer-facing businesses, the BID organised for thousands of hand sanitiser bottles and disposable face masks to be provided to the public. This follows the BID's launch of their 'We Want You Back' town centre campaign, focusing on shopping local and staying safe.
Melanie Palmer, Chief Executive of Solihull BID, said: "We are delighted to have secured the funding from the Reopening High Streets Safely Fund to provide hand sanitisers and face masks for our visitors to Solihull.
"The BID are committed to working closely with our partners to keep the town centre safe, clean and welcoming, providing a relaxing haven for all to enjoy."
The project has already received an overwhelmingly positive response from the public and town centre businesses following the warning of a potential second spike of coronavirus infections.
The BID has already implemented various measures across the town centre to ensure visitors enjoy a stress-free trip. These include social distancing floor stickers to help with shop queues as well as benches on the High Street, in Mell Square and Theatre Square, Touchwood, to allow people to take a break or wait for family members who are shopping.
To learn more about the project, visit www.solihullbid.co.uk