Using Indian cuisine as inspiration and a focal point, the menu was created to enrichen the offering available at Tap and Tandoor. Designed by Birmingham cocktail legend – Robert Wood, former bartender at The Edgbaston and 40 St Paul's and now master mixologist at the super-cool speakeasy 18/81, the unique cocktails partner greatly with the vibrant food menu, alongside the ever-changing craft beer choice.
MONSOON SEASON
Combining Bacardi Cuatro Rum, apricot liqueur, lime, garam masala and ginger beer, this cocktail gives a downpour of spice alongside a flood of fruity flavours.
HIBISCUS SPRITZ
If you love an Aperol Spritz, we're sure you'll love this – the Tap and Tandoor take uses hibiscus for a sweet floral addition, created with Aperol Aperitivo, Whiteley Neill Raspberry, Monin Hibiscus and Prosecco.
SUGAR AND SPICE
A unique take on an old fashioned whisky cocktail, the Sugar and Spice combines Makers Mark whisky, Kalani coconut liqueur, Highland Park 12y, winter-spiced bitters and cinnamon, to create flavours inspired by Southern Indian cuisine, finished using burnt cinnamon and roasted coconut.
MANHATTAN TO MUMBAI
Created with Woodford Reserve whisky, Martini Rosso, Chai syrup and cardamom bitters, the illustrious flavours of a traditional Manhattan are combined with a mixture of Chai spices, resulting in a comforting spiced flavour reminiscent of Mumbai.
LIQUID SUNSHINE
A firm favourite from Tap and Tandoor, the Liquid Sunshine cocktail will transport you to a warm sandy beach, come rain or bright skies. Combining Bacardi Carta Blanca, Koko Kanu, pineapple sherbet, vanilla extract and soda water with a delicate coconut and sweet pineapple finish.
GREEN AND SAFFRON
Originally created for Tap and Tandoor's sister restaurant Zindiya, the Green and Saffron brings together fragrant spices and delicate florals in a twist on a traditional gin and tonic. Created using Tap and Tandoor's own gin, infused with rose, cardamom and saffron, the cocktail is finished with aromatic tonic water.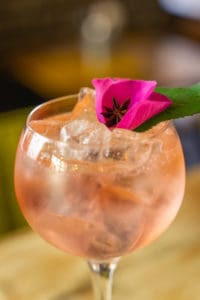 ALPHONSO KENTH
Arguably the most wanted mango in the world, the Alphonso is known as the King of mangoes, so Tap and Tandoor saw it fitting to name this one after its founder. The signature cocktail brings together, Whitley Neill gin, Gabriel Boudier mango, Monin spicy mango and Indian spices, to give a refreshing yet subtly spiced flavour.
So, what are you waiting for? Call the team at Tap and Tandoor on 0121 711 1166 to book a table today…
Keep up to date with the latest news and offers by searching Mell Square on Facebook, Twitter and Instagram.